The narrative leading up to the Rio Olympics to date has been troubling. From Zika to corruption, safety and security have now emerged as one of most concerning areas. The same games that are meant to celebrate the world, united by Olympism are happening at a time when mass casualty attacks like those in Brussels, Orlando, and Nice are becoming the new normal. We refuse to accept that and wanted to share some thoughts on the unique challenges we see for the dedicated security team committed to protecting the athletes, volunteers and fans who will spend the next fourteen days in Brazil.
How difficult is it to keep 600,000 people safe over 19 days?
These 2016 Summer Olympics will be secured by 85,000 personnel protecting 10,500 athletes, 70,000 volunteers and about 500,000 fans watching 306 events over 19 days across 32 different venues in four different geographic areas with football matches in five additional cities. These people will enter an array of venues from large stadiums to small arenas, outdoor ranges, beaches and the open water. This is where the challenge begins.
So how can you efficiently and effectively screen this volume of people coming in and out of the games?
Let's use the largest single location to illustrate the security challenge.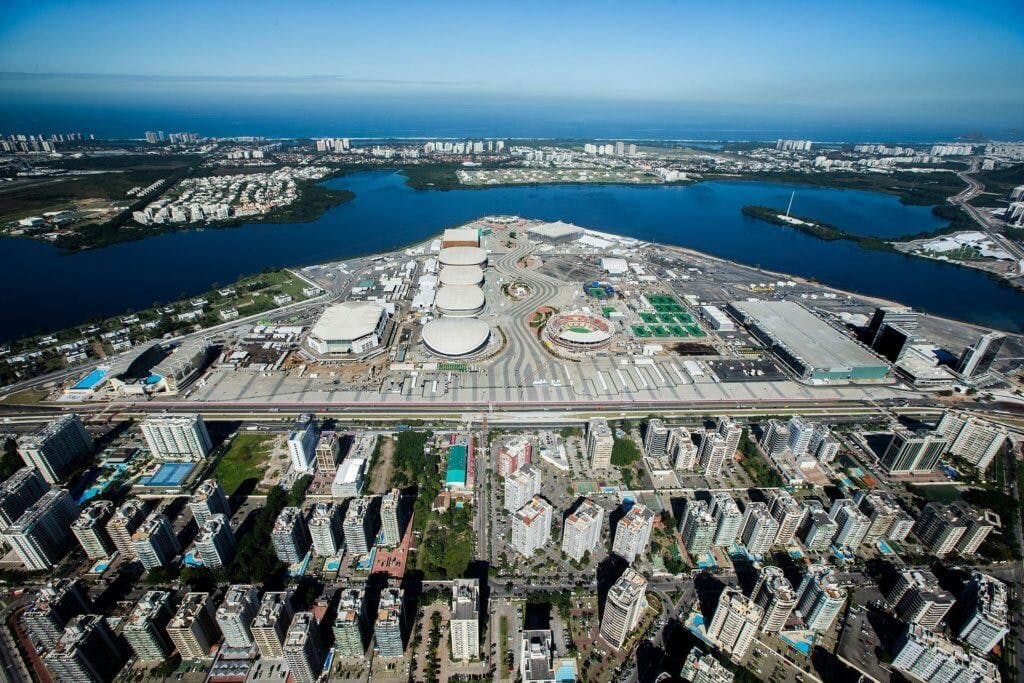 The Barra Olympic Park (picture above) spans almost 300 acres, and is home to nine stadium venues hosting thirteen different sports, with an aggregate capacity of 95,000 fans.
On the fifth day of competition at Barra, 329,000 fans will attend 21 different events starting at 8:30am and ending after midnight. This is the equivalent of having sold out games at Fenway Park (Red Sox), TD Garden (Bruins/Celtics), Citi Field (Mets), Yankee Stadium, Madison Square Garden (Rangers/Knicks) and Met Life Stadium (Jets/Giants) on one consolidated campus, all in the same day.
Fans, athletes, volunteers and employees will be coming and going all day long. They will be arriving on buses, via subway, private vehicles, by bicycle and on foot. The Barra Olympic Park peninsula borders water on two sides and a very busy traffic area on the third. This is one tough perimeter to secure. Checkpoints will be set up around the perimeter to screen people and their bags. Given the volume of people throughout the day and the breadth of belongings they will have with them, this poses an enormous security challenge for any guard force. Add visitors speaking many different languages who may be new to Olympic-style security screening and the lines are likely to be very slow. One more variable: people will be bringing all sorts of personal items that local guards have not experienced before in their training. Imagine their thinking is this a threat or not? Is this on the prohibited list?
Let's consider the security challenge faced by the Rio Olympics security organization. First and foremost, these games are once in a lifetime for Brazil (and is the case for many Olympic hosts). Therefore, there is no 'permanent' security force that secures all of those venues with those crowds on a regular basis. Second, looking for 'abnormal behavior' in a sea of chaos is virtually impossible. Thousands of people from hundreds of countries, moving around day and night over nearly three weeks creates a constantly changing environment. There is nothing normal about it that can provide a baseline for security personnel to assess unusual behavior against. Techniques to gather intelligence, identify suspicious behavior, and employ counter surveillance strategies are exponentially more complex.
In addition to its athletes, each nation brings trainers, coaches and other support staff. Is it time to think about each nation contributing large numbers of security personnel to the games? Should we have a transnational security organization that moves from one international sporting event to the next? Or can we use technology to reduce the complexity and be a force multiplier?
Given today's threat landscape and the complexity of the modern Olympics, do we need to fundamentally rethink how we secure the games?