Blog Post
8 Minute Read
---
Julie Zomar
Director of Brand & Strategic Programs
Sandi Marcus
---
---
---
In late May, Evolv hosted the "Adaptive Recovery" Webinar with Juliette Kayyem, former Assistant Secretary at the Department of Homeland Security. Juliette spoke about crisis management using her Adaptive Recovery Framework for managing an organization's reopening and recovery across a variety of different sectors of the economy. At that time, planning was underway for schools to eventually reopen and for workplaces and recreation entities to reopen. This blog post has been excerpted from Juliette's discussion on the webinar and expanded on.
Click here or on the image below to download the full webinar.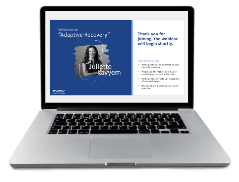 A month has now gone by, and while many organizations have put their plans into action, others continue to prepare for their reopening in the coming weeks and months. Many states have begun to lighten their restrictions, allowing restaurants, businesses and stores to reopen. And, even some theme parks and aquariums are opening their doors. Regardless of where you are on your reopening timeline, Juliette's sage advice is worthy of embrace:
Here's What We Learned for the Recreation Sector.
The bad news is while the virus is new, crisis management isn't. The good news is we have expertise and experience in crisis management. This pandemic is nothing if not a crisis. 
First things first …. don't think about opening up as a moment in time or a threshold to cross; think of it as an organic process. Here's why. In times of crises, like hurricanes or tornadoes, there is a moment of "boom" and the enemy is gone, response and recovery begin – a specific moment or crossing a threshold if you will. In this crisis, the enemy isn't gone and in fact and unfortunately, will be around for a while – – this is a "rolling boom" hence the need to continually adapt.
Key Questions to Ask Yourself.
As security, operations and guest experience managers, the reality is we'll have to continue to adapt to the virus in real-time and over time. That means planning, re-planning, embracing new governmental requirements, responding to new outbreaks and eventually, hopefully, administering a vaccine.
But the common thread through the multitude of plans is risk reduction, a balancing act based on three elements:
Where Does this Leave Us?
Two things we know for certain:  social distancing and touchless security/venue features will allow you to come back more quickly and ensure patron safety.
Specifically, for entertainment and recreation entities, here are a number of areas you can focus on as you plan your reopening, or continue to adjust over time. We've outlined changes based on your customer's journey, from the time the individual approaches your venue or facility until they are inside and enjoying themselves!
Communication & Planning Prior to Arrival
Planning their Visit
One of the best ways to provide peace of mind, entice visitors to your venue and ensure they are well informed is by providing clear communication to them in advance. Use your website, create a video, use social media accounts, e-newsletters and email reminders to communicate the importance you have put on the cleanliness of the venue and the care around staff interaction with guests, as well as the considerations you ask of your guests to adhere to guidelines for the safety of all.  And, don't forget your employees. Consider implementing an employee health survey they take before arrival to work.
Paperless Ticketing
Go Mobile. When possible, implement paperless ticketing utilizing an app or email to provide patrons/guests with a scannable QR code or barcode for entry. A significant reduction in the use of paper tickets will eliminate surfaces from which germs can be spread. Don't forget, additional benefits to implementing paperless ticketing is guests will no longer forget their tickets at home or have to stand in will-call lines. And, there is less fear of stolen tickets.
Stagger Arrival Times
If possible, a great way to help avoid crowds in the parking lot, on the trams or buses to the park entrances and at the park or venue front gates is to stagger arrival times. Just like the airlines provide boarding zones, and golf courses are now staggering tee times, you could implement entrance times or zones in advance to help keep the flow moving at a steady pace instead of bottlenecking anywhere on premise.
Contactless Guest Screening at Arrival
Ensuring the safety and health of guests and staff has required a number of measures to be put in place.  These include asking patrons and guests to assess the risk they have coronavirus and could infect others, screening for elevated body temperature, and screening to detect and prevent weapons from entering.
Temperature Screening
How might you institute temperature screening to mitigate risk of allowing someone with a high fever with potential contagions into your venue? Will you use handheld temperature reading devices or larger touchless ones? Who will be overseeing the thermal read-outs and making the judgement calls on whether the numbers are accurate? Do you need to hire dedicated medical staff to manage this function?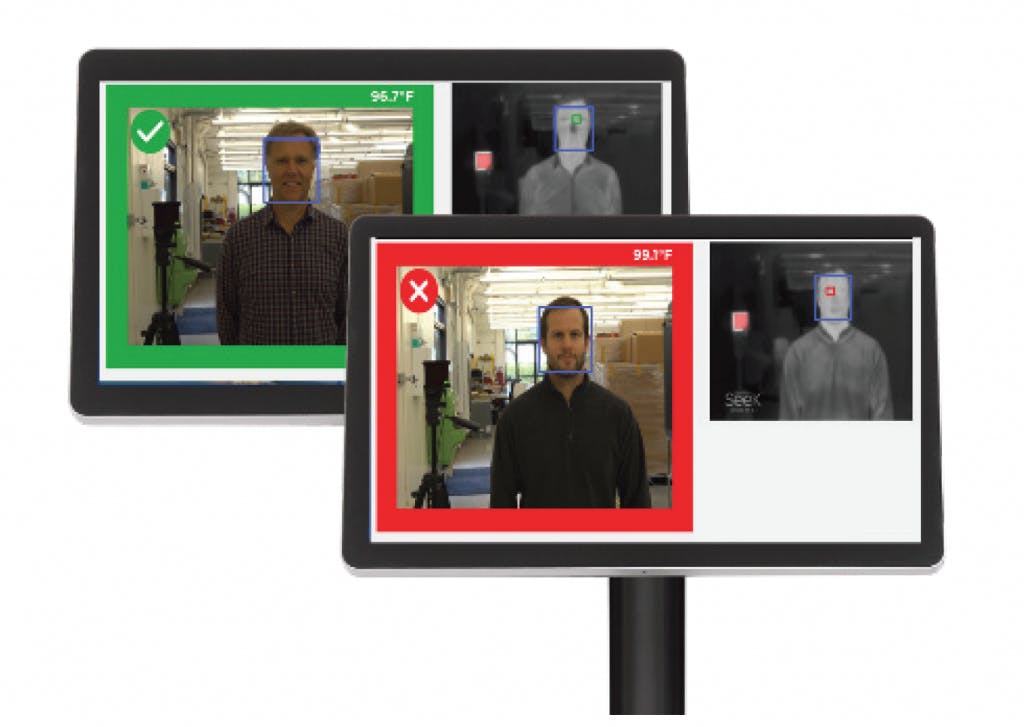 What will you do when someone is found with an elevated temperature? It will be extremely important to have a policy and procedure in place and have properly trained your staff on how to react. You'll also want to consider including language in your Venue Guidelines document or website that addresses what happens if a person is found with an elevated temperature, especially as it pertains to refunds and what to do with the rest of their party.
Touchless Weapons Screening
Many of you already had weapons screening in place to safeguard your venue, but prior to COVID-19 did they create long lines and force contact between guards and fans or guests? We have now entered a new phase of venue security where both weapons and health screening is important, meaning the systems used "yesterday" such as traditional metal detectors, pat downs and manual bag checks will no longer be the systems capable of screening for threats of "today" or "tomorrow".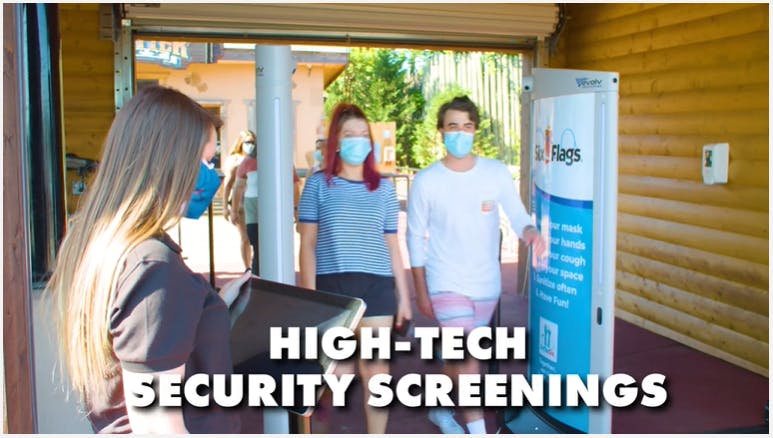 Consider a touchless security screening solution that can screen people and their belongings in real-time as they walk through your doors without long lines, and without invasive search procedures. You should look to technology that will grow with you over time, adapting to new threats and allowing you to add-on additional features and sensors for cost savings and increased security in the future.
Spaced Seating
Being able to boast that you sold out every seat will be a thing of the past for a while. It's time to get creative. What can you do to change your seating structure to reduce the intensity of interaction and limit number of interactions? Can you sell every other or every third ticket? Do you have sections for parties of 6 to make it easier for groups to stick together without having to readjust your entire new seating chart? There are plenty of diagrams you can consider and put in place depending on attendance levels and venue layout.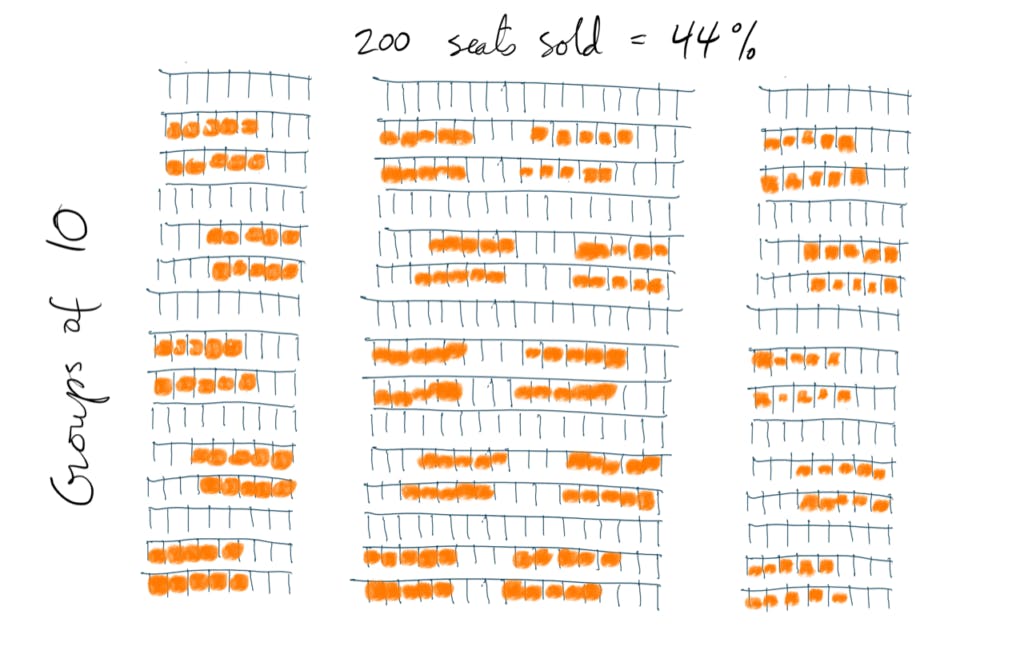 If you're an outdoor venue with "lawn seating", you might want to put up ropes or mark off seats with tape or chalk to help enforce distancing.
For theme parks and attractions, it will be easy to manage seating positions of park guests on rides by training staff to control the seating placement, and the IAAPA has identified some guidelines to help you think about capacities that allow for physical distancing.
Touchless Concessions
Across the country restaurants have had to reinvent themselves. In many states, eating in a restaurant is still prohibited, so restaurants have had to think outside the box on how to serve customers and keep revenue flowing. Some have opened up outdoor dining sections taking over parking lots, lawns, city streets and sidewalks, and many now offer take-out or delivery to ensure people can have their favorite gourmet food but eat in the comfort of their own home. For some restaurants, that means they are now accepting credit cards, PayPal or Venmo for the first time ever; some are offering a contactless self-ordering system and table service; others are having patrons scan a QR code for their food or drinks menu, make reservations or even connect to a restaurants payment tool. And, once self-serve, salad bars in restaurants and grocery stores are now open again with one distinct change, employees are now dishing out the patrons' selections.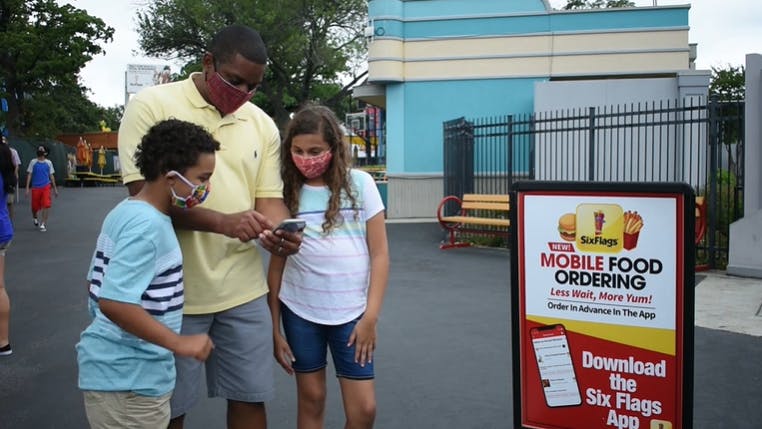 You can use some or all of these lessons learned from restaurants across the country to update your concession stands. Start with how to limit or erase lines. Do you allow certain sections to go to certain concession stands? Do you add more pop-up food stations to create more places to purchase food? Or better yet, do you launch/create an app for virtual queuing where the fan or guest selects the concession stand they'd like to purchase from and add themselves to that line, when it's their turn, they are signaled to walk over to the concession? Or best of all, why not use an app in combination with waiters/waitresses; the fan or park guest downloads the app, orders their food and pays online, a waiter/waitress brings the food right to their seat.
Next, make sure you go touchless. Bring those condiment carts behind the counter and have your staff serve them. And, don't forget about menus. If you usually hand out laminated menus reused with each guest, it's time to throw them out unless you plan to sanitize them after every use. Although some venues have opted to print one-time-use paper menus, the cost to you and the environment will add up.  Think about implementing an app or QR codes for ordering.
Hygiene Stations & Touchless Amenities
Keeping areas clean is paramount to stopping the spread of germs. Have you asked yourself how often railings, door handles, counters and bathrooms should be cleaned? Do you need to hire additional janitorial staff to ensure these areas are maintained? Do you have pop-up handwashing and/or hand-sanitizing stations throughout your venue or park? Do you remove all drinking fountains and install water bottle refill stations that are managed by staff and sanitized between each use?
What about your faucets, toilets and paper towel dispensers…are they automatic, or do they involve the turning of a handle? While some of these would be costly renovations after already losing revenue these last few months, you can choose a variety of ways to make your venue or facility cleaner and keep the presence and spread of germs to a bare minimum.
The Moral of this Story…
No matter how much you prepare in advance of reopening, one thing is for certain – you will need to watch, measure, evaluate and be ready to make adjustments as necessary.
Adhere to your local government guidelines and embrace the physical and technical adaptations you can make, to build confidence among your returning visitors, patrons and fans and ensure a safe and fun time for all.
###