Blog Post
5 Minute Read
---
Anil Chitkara
Founder, Chief Growth Officer
See Bio
---
---
---
Workers are just as concerned about physical safety as COVID protection – and not satisfied with traditional metal detectors.
While effectively dealing with COVID-19 is top-of-mind for facilities managers at large workplaces, a recent Harris Poll survey we commissioned indicates concern over physical threats are just as or even more concerning. And the survey makes clear that, while workers welcome screening measures to promote safety, if such measures create lines and crowding, they simply won't be acceptable in the COVID era.
New research by The Harris Poll, conducted in mid-Sept. through early October 2020, surveyed more than 500 people who work in a factory, warehouse or distribution center that typically houses at least 100 workers. The survey covered workers in manufacturing, wholesale/retail, and transportation/utilities industries. These are the folks who are moving essential goods and services through our economy, including the pharmaceutical and food industries as well as other essential goods and services.
Concern over crime eclipses COVID
Results show workers are certainly concerned about contracting COVID-19, with 78% saying they are somewhat or very concerned. But an equal 78% are concerned about mass shootings. Other forms are violence are likewise quite concerning:
78% of workers are concerned about contracting COVID-19, the same percentage who are concerned about mass shootings.
More than 4 in 5 respondents (83%) think crime has increased over the past year and 77% say the risk of violence in public spaces is higher than a year ago.
Those concerns extend to the workplace, with well over a third – 39% – saying they are somewhat or very concerned about their physical security while at work. Fearing for your safety is no way to go through your work day.
It's not surprising, then, that workers do appreciate steps their employers take to keep them safe, with 92% reporting the safety measures at their workplace make them feel "mostly" or "very safe." However, the majority of that group, 56%, was in the "mostly safe" camp, along with 8% who report feeling mostly or very unsafe.
More than a third of workers report they are somewhat or very concerned about their physical security while at work.
Part of the problem may be the type of security measures in place, with ID cards and swipe access being the most common, reported by 75% of workers. Only about a third have security or threat awareness training or a staffed gatehouse, and fewer yet have metal detectors (27%) or bag checks (25%).  Clearly, there's room for improvement.
Protecting the workplace
In terms of what measures would help workers feel safer, when it comes to COVID they include simple measures such as hand sanitizer stations as well as less common ones such as walk-through body temperature measurements (see Figure 1).
Figure 1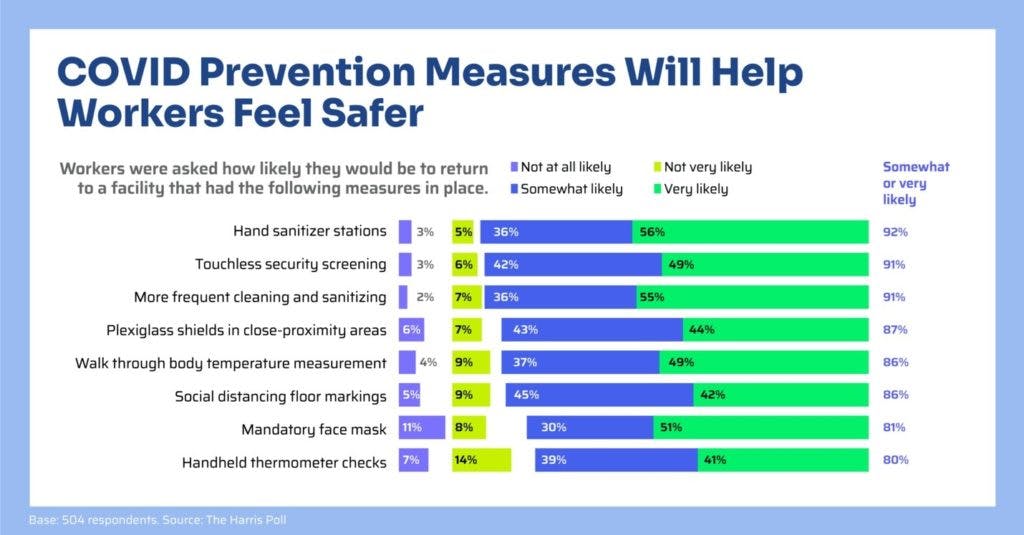 For physical security, nearly four out of five workers (79%) think metal detectors are necessary where people congregate, including workplaces. A majority agree such screening provides important benefits, namely:
Nearly 4 out of 5 workers think metal detectors are necessary where people congregate, including workplaces.
Traditional metal detector screening involves emptying bags and pockets and potentially being subject to a pat-down. Even in the COVID era, such measures induce more positive feelings than negative – but the negatives are significant. Asked how this type of screening would make them feel, 69% said "calm" but nearly a third (32%) said "anxious." And while 72% said it would make them "satisfied," again 32% said it would make them "irritated." Sixteen percent went so far as to say such screening would make them "fearful."
It's clear that COVID-19 is driving up levels of fear and anxiousness. Asked how COVID-19 made them feel about traditional screening methods, respondents reported feeling:
Workers report having a number of specific concerns about traditional metal detector screening, including long lines, the touching of their belongings and violation of social distancing guidelines (see Figure 2). Fewer but still significant numbers of workers cite issues such as the possibility for human error, too many false positives (such as a metal detector alerting on a harmless object) and the need for physical pat-downs and searches.
Figure 2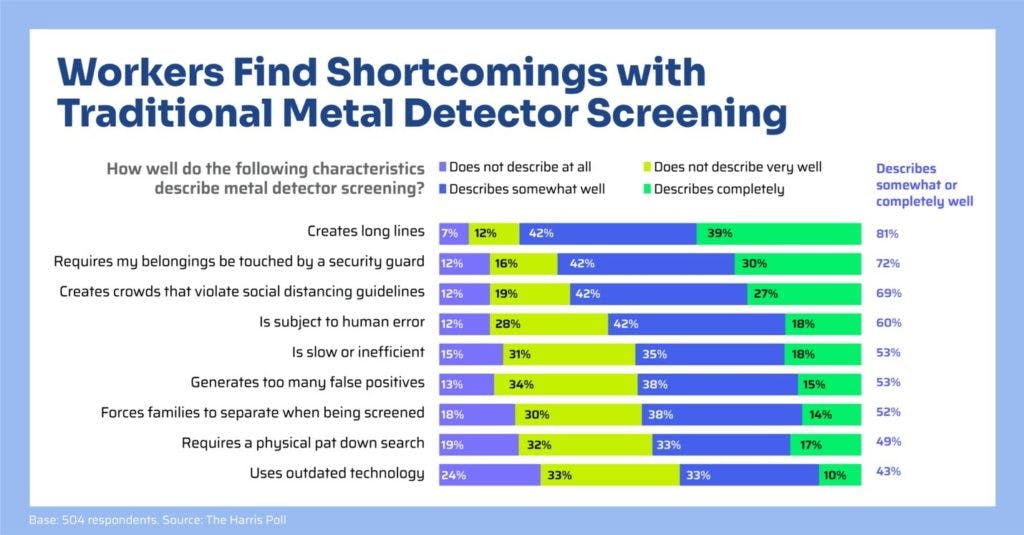 Here's another stat from the poll that I found fairly astounding: When workers were asked what they would do if they saw a security line in which people were not socially distancing, more than half (55%) said they would not join the line.
A touchless screening experience
I discussed this issue, along with many others, in a webinar with Erica Parker, Managing Director at The Harris Poll. "When you think about the intersection of COVID and metal detector screening, and the fact that it can create long security lines, [workers are] not interested in that," she said. Newer technology can make a difference, though. "We find that 87% are likely to return to facilities and venues if there was a touchless security screening," she said.
The vast majority of respondents (87%) say they are likely to return to facilities and venues if touchless security screening is in place.
That makes sense because newer touchless security screening systems create an altogether different experience. There's no need to empty pockets, because the system can detect items that are in your pockets and differentiate, say, a gun from a metal keychain or phone. By the same token, you can carry bags through the screening system; there's no need to empty them out. The systems are reliable enough that there are far fewer false positives, which means there's almost no need for pat-downs.
All of these attributes contribute to another big advantage of touchless systems: they're much faster. Evolv Express, for example, uses artificial intelligence and advanced sensors to screen up to 3,600 people per hour, about 10 times faster than legacy metal detectors.
New workplace requirements
The Harris Poll makes clear that while COVID-19 is a top concern for workers, their physical safety is just as important. But given the COVID requirements for social distancing, it's equally clear that we need to investigate new ways to keep workers safe and secure.
Workers will appreciate facilities that implement a touchless approach, as 83% agree that knowing everyone is screened upon entering a workplace makes them more comfortable. And more than three quarters (77%) agreed that metal detection systems make it impossible to socially distance while in line.
With a system like Evolv Express, you can get ahead of the curve and ensure employees you value their safety, making them more at ease at work – and, likely, more productive. Click here to learn more.
Watch Digital Threshold Live Episode 3 here:
A Data-Driven Look at the Pandemic
Anil Chitkara
Founder, Chief Growth Officer
Anil Chitkara is a member of the Evolv Technology Executive Leadership Team, where he serves as Chief Growth Officer. Anil co-founded the company along with Mike Ellenbogen in August 2013, having met previously at General Catalyst. His impressive background includes executive positions at Oco, Inc, PTC, and Accenture. Anil served as an Executive-in-Residence for General Catalyst, where he developed market entry and revenue growth strategies prior to founding Evolv Technology. He has proven expertise in the development of analytic business cloud applications, product marketing, and business strategy. Anil holds a Bachelor of Science from Boston University, as well as an MBA from The Tuck School of Business at Dartmouth.
See Bio