Blog Post
3 Minute Read
---
Julie Zomar
Director of Brand & Strategic Programs
---
---
---
Do away with "old school" technology
While high school and college graduates, along with their proud families, gather across the U.S. to celebrate their academic achievements, real-time security should be at top of mind for school administrators and security staff.
Graduation ceremonies take place in a multitude of venues, from gymnasiums and performing arts centers, to outdoor areas or other large venues intended to accommodate the thousands of faculty, students and family members in attendance. Some larger college graduations even take place in stadiums that seat more than 90,000 people. While a crowd of 90,000 people makes for a joyous celebration, it also presents a number of security risks and challenges that academic institutions must address.
The reality is that school-related attacks are on the rise and your top priority should be protecting those in attendance. In order to feel confident that graduation is an enjoyable and safe experience for all, you and your security team need to overcome one of the biggest roadblocks ― Metal Detectors are Old-School!
Yes, we just said it, metal detectors simply are not designed to detect and prevent today's modern threats. Since the late 1900s, the technology has changed very little, and anyone who has had to wait in a queue to go through one for an event knows that they're incredibly slow-paced and often trigger false alarms. Yet, too many schools and venues still rely on old metal detector technology to screen large crowds.
Metal Detector Technology Limitations and Disadvantages
The technology in metal detectors is designed to detect metal and simply can't disambiguate between a cell phone, toy or gun. It forces individuals one-by-one to divest of articles of clothing, belts, shoes, phones, keys, bags and more. Further, when guards repeatedly find that the detectors' alarms are due to those everyday items and not weapons, they become desensitized and inadvertently less effective in the screening process.
Forcing individuals one-by-one to empty their pockets, and have your guards rummage through their personal belongings cause frustration for all parties involved. This slow, single-file security procedure creates a bottleneck of anxious people waiting to enter your venue, rather than creating a positive, seamless visitor experience.
The hassle, frustration and long lines that metal detectors cause, combined with their old-school technology that only detect metallic items, can create scenarios where the screening process itself is more of a risk than the threats the detectors are trying to mitigate. For instance, generating bottlenecks also creates a "soft target", a person or group that is relatively unprotected or vulnerable, especially to a mass shooting or terrorist attack, in and of itself.
Taking a New Approach to Real-Time Visitor Screening
As the threats against academic institutions increase, you should look to adopt new advanced weapons-screening solutions that combine powerful sensors and artificial intelligence to better screen crowds of people simultaneously, while pinpointing threats such as guns, knives and other objects. These solutions efficiently identify threats, and help eliminate the large crowds gathered in front of the screening area.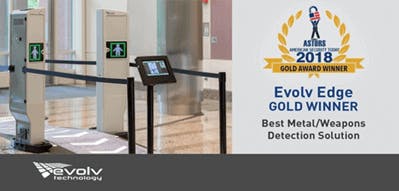 Graduation day is one of the happiest days in the lives of students and their families. Through a combination of smart security and advanced technology, we can keep it that way.