There's probably a reason the pipe bombs sent to two former Presidents and other politicians, an actor and a businessman were made of PVC piping instead of metal and contained glass shrapnel rather than nails and bolts.
It's because the bomber knows that the world's weapons-screening infrastructure for the last 30 years has been based on metal-detection equipment. Indeed, anyone considering committing an act of terror probably knows this as well. It's well-documented on radical sites on the Web, where it's easy to find guides on how to build non-metallic bombs, including in articles in ISIS' online magazine.
We don't know yet why none of the bombs exploded but based on our initial analysis of photos in the media we see no reason why they couldn't have. They have all the necessary basic components. It's possible the bomber chose not to activate a triggering device and just wanted to send a terrifying message. Or maybe all the recipients—the intended targets and the security and mailroom staffers that handled the devices–just got lucky.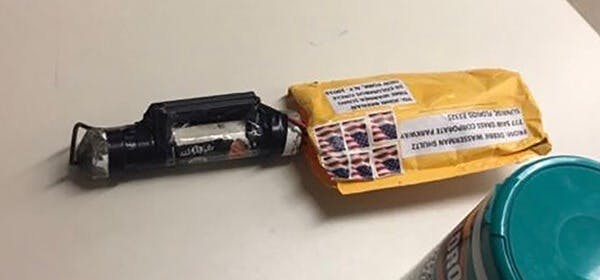 Either way, luck was involved. And luck is not a strategy.
We should have learned this by now, since this is far from the first time a bomb that did not contain metal failed to go off. Richard Reid, the shoe bomber, got his non-metallic bomb onto a flight from Paris to Miami in 2001, but couldn't light the device. Everything about the attack by Umar Farouk Abdulmutallab, the underwear bomber, went as planned except the bomb burned rather than blew up on a flight from Amsterdam to Detroit in 2009. Attacks with non-metallic bombs do happen. Al-Qaeda used plastic explosives to attack the USS Cole in 2000, and terrorists used a C-4 to blow up a U.S. military housing complex in Saudi Arabia in 1996. But the reality is that in this country, we've avoided casualties from some of the most potentially lethal and destabilizing attacks because of the failure of the attacks, not the success of the security.
So, what to do? For starters, any organization or citizen that has felt concerned enough about being a terrorists' target to get a metal detector needs to look for screening systems that can identify metallic and non-metallic weapons. We sell such systems—they use a technology called millimeter wave that identifies materials by its chemical makeup – and so do other companies.
Beyond that, the solutions become a lot less clear, and a lot more daunting. This round of attacks highlights not only the threat from non-metallic devices, but the broad shift in terror tactics from attacking hardened locations such as airports and government buildings to targeting "soft targets" that typically have no weapons screening at all, such as office buildings. Indeed, the only reason the bomb meant for Robert De Niro wasn't delivered to the actor is that an eagle-eyed security staffer at his production company saw a mailroom worker with a package that looked just like the one he saw a photo of on TV the previous day that contained a bomb.
We are lucky in this country to have world-class law enforcement and counter-terrorism people, and we will likely soon know who did this and why none of the bombs actually detonated. But as a society, we need to grapple more seriously with giving these professionals and their peers in corporate security access to more information and technology to predict and prevent such attacks. The President's security detail no doubt had x-ray machines capable of spotting almost any kind of weapon, but do we need to upgrade, or in some cases, to introduce material-agnostic weapons screening in our public mail systems? How about scanning for private delivery services companies and distribution center offices? And what about screening for other kinds of attacks? The scary truth is that yesterday the attacks came through the mail, but tomorrow they could be delivered by a person walking through the front door.